Welcome
Welcome to Hartford Community Junior School's website. Enjoy browsing through the different drop down menus for more details of events, or homework projects, policies, term dates etc... Some parts of the site are "a working progress" so please bare with us.
Neighbourhood Plan Logo Competition.
On Friday the 14th October we had the Mayor come into school for assembly to award one of our pupils a certificate, a prize of an art set, and a voucher for the school for winning the competition. All she had to do was create a logo that shows what she loves about Huntingdon. Not only did she get a certificate, an art set, and a voucher but her logo will also be used for the Neighbourhood Plan Project. Well Done a true Hartford Star.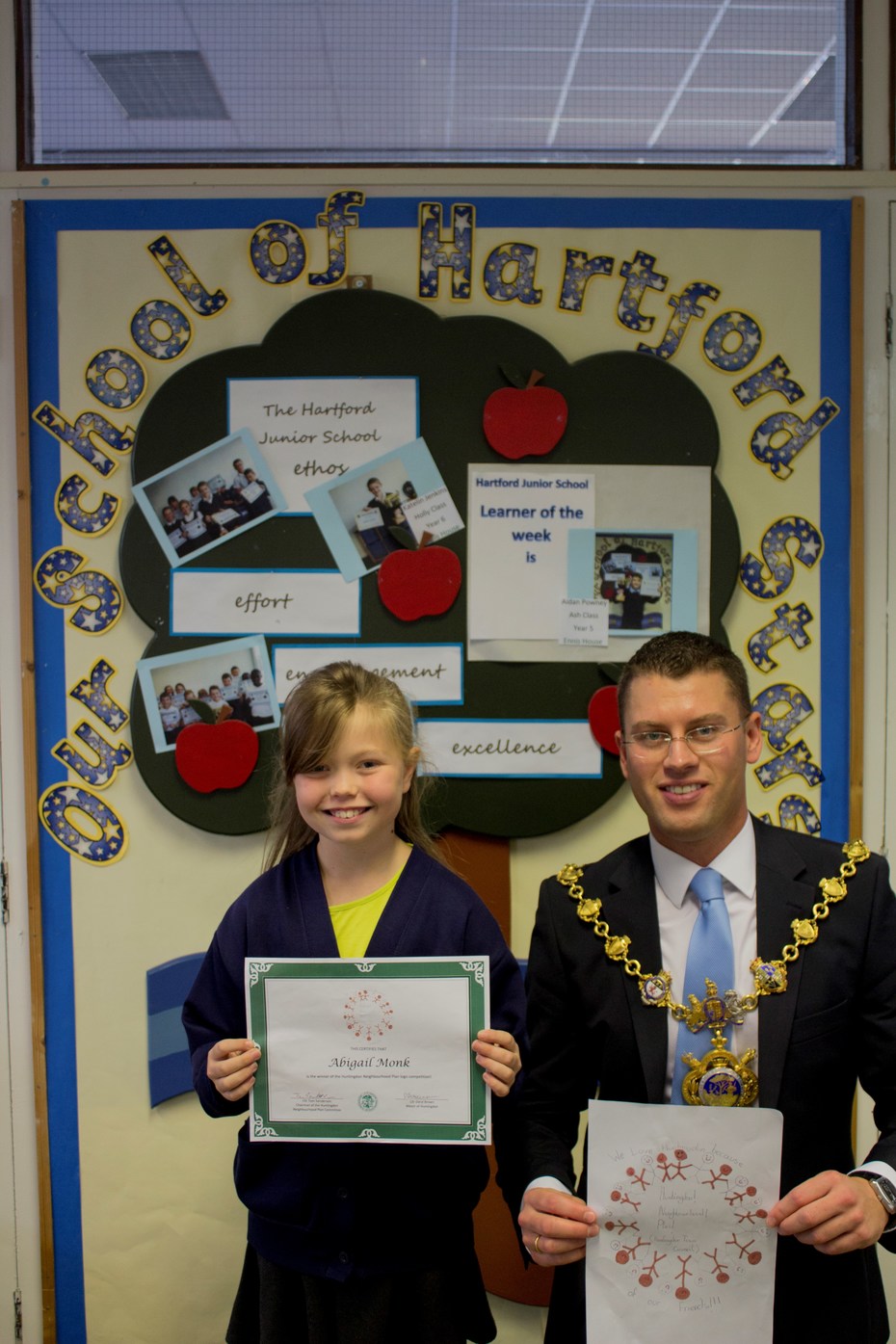 The Clowns Craze
Over the last couple of days, many of our children have been talking about the 'Clown Craze' that is happening at the moment. They have seen reports on the news and in newspapers and have been sharing what they have seen with their peers. Some children have reported that they have been left a little frightened by what they have seen and heard.
We spoke to all children in assembly on Thursday 13th October to explain that it was nothing to be scared of. Some adults were not being sensible and thought it was funny to dress up as clowns to frighten people. We explained that it was not something that they should concern themselves with and we asked the chidren to refrin from talking about clowns in school. If they were concerned or worried about anything we suggested they spoke to their parents or carers or to an adult at school.
To help us explain we showed them a video from Newsround that investigated this new craze. (http://www.bbc.co.uk/newsround/37616622)
Some quotes from our open day
It was fascinating to see the Junior section of school. Thank you for showing me around to see all the classrooms and all the work displayed.
Very nice to see all the children working hard. Encouraging to be invited into the classroom. Very polite children on reception area.Hartford Juniors is a lovely school. The children on reception were very polite and helpful. All the children were listening to their teachers and all seemed very happy.
Excellent tour, all children hard at work. Well Done.
I think the school is very good. All the children seem to be having a good time and everything is under control.
Lovely walk around school. Very much enjoyed. Thank you.
Had a lovely look around the school and I was so impressed by the behavior and attitudes of the children. Fantastic displays as well.
Really nice to see the progress in the work books, and how the children work out maths. Very good morning all round.
Loved looking around the school. It was very nice seeing all my child's work and classroom.
Lovely to see round the classrooms when work is ongoing to see all the different styles of learning. Thank you.
It was great to have the opportunity to see the school community at work. All the staff we came across were friendly and welcoming. The children were all busy despite it being a Friday afternoon. The Year 6's who dealt with me were confident and helpful. Thank you.
Latest School Calendar Events
Half Term

24

Oct

2016

Year 6 residential

31

Oct

2016

Mad Science

01

Nov

2016

3:25 pm - 4:25 pm

Parents evening week

07

Nov

2016

3:30 pm - 5:00 pm @ Classrooms

Mad Science

08

Nov

2016

3:25 pm - 4:25 pm

Holly Work Assembly

10

Nov

2016

9:00 am - 9:30 am @ Hall

Individual and Family School Photos

18

Nov

2016

8:00 am - 11:30 am

Ash Class Assembly

29

Nov

2016

9:00 am - 9:30 am

Book Fair week

07

Dec

2016

3:15 pm - 13 dec, 3:45 pm

carols on the playground

12

Dec

2016

6:00 pm - 7:00 pm @ School playground

Last day of Term

20

Dec

2016

3:15 pm - 3:45 pm

Training Day

04

Jan

2017

8:00 am - 4:30 pm

TERM STARTS 8:50am

05

Jan

2017

8:50 am - 9:20 am